LuckySeven wrote:
Quote:
School as in like... college level high school classes. xD. I am quite passionate about it, wanna get a job of somekind. Need a lot of work :S
Ah i see now. How long does it take you to do these. Like an estimate on most of them. The ones you did color looks like you took so much time on which is good. Patience is key when it comes to shading even with color. I want to get a career in this as well but I've been think maybe taking my talent into animation. I've done characters I made up but their harder to do (to me) since i have no idea what i'm drawing yet which is why I'm inspired by yours.
Uhmmmm usually a real good piece is around 5-8 hours of work total, over like 2-3 days. Most of the ones on page 6ish where i dumped a ton were done for my portfolio and got done in that timeframe. Sketches and shit like that usually takes like 2 hours from conception to finish.
You're right, patience is key, and being willing to know when you shouldnt force yourself. I find that my worst pieces are when I just can't draw for shit. Then I take a day or two and breathe, then I can do pretty good stuff. xD
I'm glad you're inspired by mine. I try to just think of a meaning I want to convey, or a thought I wanna express, and draw it out. I spend the most time
thinking
of what i wanna do, then actually drawing.
_________________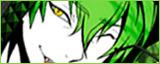 Chapters: 2 - Word Count: 11,733