Takoto wrote:
I'm going to cry IRL.
Dont. This wasnt meant to make you feel bad.
This was just meant to get it out in the public. If i didn't say it, then I probably would have exploded in the discussion thread. I like a lot of your choices. Some are just incredibly confusing to me. And one... well. Yeah.
You might call it raging, and I guess thats what it is.. but I just had to say it.
_________________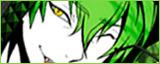 Chapters: 2 - Word Count: 11,733