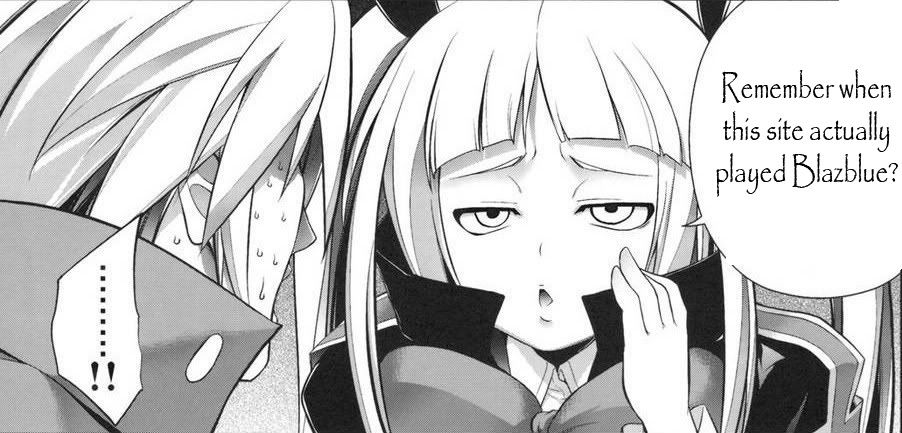 Now, I may sound a little insulting, but this site has started to take a decline as far as ANYTHING on topic goes. When was the last time we had a thread discussing combos, strategies, pressure, or anything technical related? Well, personally I can't remember any at all. But, I didnt just come here to rant, me, Grimalkin, Stongyman, and Haku+Men are here to try and get the BB love reignited.
If your looking for Xbox teams check out Stongy's here
Team Havoc
viewtopic.php?f=34&t=5121
If your looking for some good old fashioned CT play check out Grimalkin's team here
Team Fluffily~ Fluffity~
viewtopic.php?f=34&t=4936
If we can get enough people to start playing blazblue seriously again, I
promise to start both Xbox and Ps3 tournys with the power of owning both consoles/games. I'll even look into getting some hardware so we can start up a youtube channel with some good looking HD videos. Ill also look to trying to start a psn chat room
My PSN: sloth2000
Xbox Gamertag: snipingsnipe
Now, for team snipe:
Im looking to reignite the love of blazblue on this site. Hopefully with the help of a mod we can get this thread stickied as to not be abandoned like most of the sadly departed teams. Not too toot my own horn, but I can and Will give a good fight, just to show a little of what I can do Ill link this
http://www.youtube.com/watch?v=m3kqvq2qxZ4
Now, all I need you to leave is a these four things
PSN/Gamertag
Main/Sub
Looking for teacher/Not looking for one
Availibility
PSN: Owner_of_Epic_
Main: Hazama
Subs: Noel, Makoto
PSN:Watakushi721
Main: Hakumen.
Sub: to be decided when CS2 comes out.
Looking for a teacher: Nope, but I can teach someone almost every(tiny insignificant or otherwise)thing about Hakumen.
Availability: mostly 9-11am gmt-6 and 7-10pm but all day on weekends if I get warning first like a PM.
Gamertag: Vealow
Main/Sub: Noel, Tsubaki and Makoto
Not looking for a teacher: but can teach about game mechanics, mix ups, block strings, character strategies etc... and i can teach anyone all about Noel if they want to play her for the first time.
Availability: wed-sat - 7am-12pm (GMT+0) sun - tue: all day if need be.
PSN: Spira_17
Main/Subs: Ragna, Hakumen, Lambda.
I do not need any teaching.
Almost always available on PSN after noon.
PSN ID: ActiveAngel2
Main: Platinum
Subs: Ragna/Valkenhayn/Mu (Mains for CS1)
PSN: OrchideeFalco
Main: Ragna
Sub: Tager/Bang
Not looking for teacher but willing to teach, if anybody needs a good Ragna mentor I can pretty much explain every tiny bit of Ragna starting from blockstrings/oki till BK combos.
I will be very flexible after finishing my final exams the next month/or june.
PSN: Zorgen
Main: Tsubaki
Sub: Ragna
PSN: DARKENGREY94
Main: Tao
Sub: Tager (Still learning)
PSN id: (I don't have my own PS3, but I mooch from Soulking14) Soulking14, when I'm on
Main: Rags Sub: Jin
Looking for teacher: Yeah, I mean I have so little tiem ot practice that I rush, and if someone could help me improve my game when I have time online, then I'd be grateful.
Availability: Right now, very little. Any time I'm online I'll post ot this thread to let yall know. Don't expect a swarm of messages from me.
When is your session Snipe?
I can join for both PSN and XBL. (Sadly, I'm broke because of Bills)
PSN: TrueGunnerShadow
Current XBL: ShannonXShadow (I'm changing the GT sometime later.)
-Mains: Noel Vermillion
-Subs: Hazama, Platinum, Mu, and Tager (All Rarely Use.)
-I'm the Noel Teacher here. But I'm okay. No Teacher.
-I can be available All day Sunday. Monday thur Friday, depending like 12pm to 2 or 3pm EST and/or 7-11pm EST. Saturdays, Work and Offline Casuals with Friends place or Next Level Arcade so, I'm not available on Saturdays.
XBLGT: Sylvais
Mains: Ragna, Lambda, Golden Tager
I'm available almost every weekday around 5:00PM PST~9:00PM PST, and am available almost all day on Saturday. Can't play on Sundays usually.
XLGT:WarriorPanda117
Main: BANG BANG BANG
Subs: Tsubaki, Lambda, Jin.
Teacher: well i could use some help with my subs( since i barely started playing them)
Availability: almost every day between 12pm through whenever.(CST)