PM ME ALL CHARACTERS AND I WILL ADD THEM HERE
TEMPLATE
Name:
Forum Name:
Sex:
Age:
Species:
This is kinda open to interpretation, so just put here what you want and I'll decide for myself it its acceptable, or pm he ahead of time if you're not sure. If I don't like it though, I can deny your character for just that and make you change it. My word is law.
Appearance:
This can be provided with either a picture or a description (or both if you can/want). I was never one to like being restricted to looking for a picture, so, yeah, just do what you think is best.
History:
This can be however long and however brief you like. They're a pain in the ass to write and most of them don't matter too much considering it's the fucking past and if its ever to be spoken of, realistically, not everyone would know anyway and your character would have to explain some shit anyway. So, with that said, you can add to this as much as you like. PM me with what you want added and I'll add it. DON'T PM ME A POST WITH THE ADDED HISTORY, YOU SUMMERIZE IT, AND YOU PM IT ME TO ME SO I CAN JUST COPY AND PASTE IT RIGHT AWAY WITH LITTLE EDITING.
Accessories:
Another however long or brief you'd like. However, unlike your history, you can't just bring up new stuff whenever you like. You have only what is written here. If you want to add/subtract from it, it must be gained or lost in the rp first and then I'll edit as needed. This mostly means personal items and any weaponry. Again, be sure to pm me.
Abilities: For now, leave this blank. Once we have an idea of how our world is going to work, you can add what you need then. I have a right to completely deny your character though if I do not agree with the abilities given even after the initial acceptance.
ABILITIES:
And sense people have already been doing abilities despite the lack of discussion here is what we'll do for the sake of time and those already putting stuff down: Give it a shot. If it seems fair, I'll allow it, if not, I'll deny it. If you disagree with my denial, we can ask the people.
Theme:
Optional
Code:
[b]Name:[/b]

[b]Forum Name:[/b]

[b]Sex:[/b]

[b]Age:[/b]

[b]Appearance:[/b]

[b]Species:[/b]

[b]History:[/b]

[b]Accessories:[/b]

[b]Abilities:[/b]

[b]Theme:[/b]
~~~~~~~~~~~~~~~~~~~~~~~~~~~~~~~~~~~
Name:
Adam Klein
Forum Name:
Haku+Men
Sex:
Male
Age:
Seventeen
Appearance:
Tall 6' 1" has a beard, naturally. heavily muscular with long legs and arms. Jet black hair with green eyes. Don't know where else to go from there.
Species:
Human
History:
Adam's a tinkerer who grew up in a small family of four, his brother left when he was young but they keep in contact, for the past three years Adam has been learning under a friend of the family that does Blacksmithing and electrical engineering. Will edit for future characters.
Accessories:
ALWAYS wears a pair of workman's pants with plenty of pocket space for tools and knicknacks, with a wifebeater or T-shirt because they're comfortable. That and a generic watch, and gloves. Keeps two pair of pliers (One smaller than the other) on him at all times with a Swiss army knife, copper wire, and duct tape. Along with these he has with him a simple wood-handled hatchet.



~~~~~~~~~~~~~~~~~~~~~~~~~~~~~~~~~~~~~

[b]Name:
Zetta
Forum Name:
Lordzias
Sex:
Male
Species:
Demon
Age:
137 hellish years old (21 human years)
Appearance:
Zetta is a tall, well build demon. He has fiery red eyes, a bit pointy nose and big mouth. His hair is waist long and black in color. Two horns point back from his forehead and his skin of reddish tone. He wears a pair of black, leather trousers and. A black leather jacket with a hood, lined with white fur, covers his bare chest. He has a long, black cape. He wears black leather fingerless gloves with stubs on the knuckles. A long tail with a small blade on its end grows from end of his back, through a small hole in his trousers.

History:
It's been almost two thousand years since the great Arch-Archon Mephiston took over the nine hells and ultimately united the always fighting demonic clans. The great arson had many women, either as wives or concubines but only one gave birth to a child- a boy he named Zetta. From his youngest years, Zetta was treated as a Prince, a heir to his father's throne. He lived a fancy life, always spoiled by Mephiston and everyone around him. He had everything you could wish for, from fancy toys to armies of slaves and gladiators fighting endlessly for his entertainment. Despite this, he always felt that he lacks something, a lack of which makes him an incomplete being. One day, as almost every year, the heavenly crusade struck upon the oblivious planes. Hearing this, the young prince rushed to the first layer of hell, in hope of finding what he was missing. He hoped that it would be the thrill of battle. When he arrived at the battlefield, he found countless slain soldiers, of both the demonic and heavenly origin. In the middle of the battlefield he found something he didn't expected, a human. The old man had a long, white beard, now stained with blood of both demons and angels alike. The man had only one object- an old, rusted dai-katana. Zetta asked the man what was he doing in place like this. The geezer answered that he wished for the last thrill in his long life. He told the boy about his countless adventures and battles he fought through years, thanks to which he was regarded as a hero by his fellow kinsman. He said that he had no regrets, he never served neither hell nor heaven, that his places of worship were in the fires of battle and the battlefield was the place he wanted to die in. He however did not find his demise even in the battle of other-world beings. He simply slain all of the combatants and sat there, knowing that those were the last hours of his life. The old man made great impression on the young demon who decided to challenged the revered hero for a duel. The old man agreed and fought the prince. The duel did not last even a minute. Zetta was send to the ground in less than ten seconds. The old man however did not finished him off. He was stunned that despite his tale, the boy challenged him for a duel. The man suddenly fell down, next to lying Zetta. With last bits of strength, he passed his rusted sword to the boy's hand. He also asked him to do something for him- to remember him and his feats. After that, the old hero died. Few hours later, the Arch-Archon's honor guard found unconscious prince on the ground, next to the legendary hero Toranaga, the Slayer of Everything. When Zetta awoke, he was already titled as a hero by his fellow countryman, as the one who defeated the Slayer. No matter how much he would protest, no one seemed to listen to him. He eagerly negated the fact that he was the one who best "the old geezer" ,as he used to call the legendary hero. Full of sorrow and grief, Zetta decided. He wanted to become a hero worth of legends, just as the old man he encountered. He however could not achieve this in his current state. He was weak and he knew it. The whole life of being the one who receives made him very slothy. The fact that no matter how many gladiators he challenged on the arena, he still would "win" in some weird way, did not help either. He came up with a plan. He decided to make his way to one of many worlds inhabited by mortals. To do so, he asked one of the great mages from his fathers court to send him there. The mage was his trusted friend, Elzix the Timid. The sorcerer managed to send Zetta to a new world, world full of possibilities, a world where he could make his first step to become a real hero.
Abilities
He's just physically strong. And by strong I mean it- he can lift a small car with ease and toss it. Of course picking up trucks and stuff is out of question... but still a head on clash between Zetta and a rolling truck would end worse for the latter. Maybe only "Technique" he would use is "ZETTA PUNCH!" which sends the hit person flying/makes some serious damage to hit object if it connects.
Being a demon also gives him faster regeneration from wounds and bigger resistance to both poison and fire. Common diseases don't make any impact on him too. However he has a major weakness- holy powers of heaven will deal severe damage to him, as they would to every demon. Living all his life in the burning depths of hell also made him less tolerant to cold.
Zetta has massive magical power but he was too lazy to learn how to use it properly so if he tries to use a spell it usually ends with a big cloud of smoke and sparks.
Accessories:
Zetta carries an old dai-katana hidden in a long saya. He never uses it, as he regrets it more like a item of worship than a real weapon. He prefers to use his bare fists. He usually carries it on his back.
To his leather belt, by usage of a chain made from Dark Iron, a spellbook is attached. The old grimmoire was given to the young prince by Elzix so he could come back home. It contains many spells including the one which can be used to go back to hell, written in an old demonic language.
Theme:
Champion Theme
~~~~~~~~~~~~~~~~~~~~~~~~~~
Name: Jamus
Forum Name: Kind Polar Bear
Sex: Male
Age: 19
Species: Beastman (Human/Bear)
Appearance: About 6 feet tall and 160 lbs. He has polar bear ears, tail, and claws that are retractable. His skin is pale white and has pure white hair with blue eyes. The hair is medium length like not to the shoulders, but long enough to reach the eyebrows in the front.
History: He has lived a mostly normal life up to this point. Growing up in the city, he learned to defend himself from attackers. Being someone who isn't fond of the idea of getting jumped, Jamus moved out to the forests when he was 14 to avoid danger until he was strong enough to fend off any muggers that might attack him. After five years in the forest he has decided to head back to the city to see what has changed and find work. Since Jamus has spent a few years training he decided to seek work as a hired hand to help anyone that wants or needs it. He currently just lives on the street hoping to find work.
Accessories: He wears a cyan t-shirt and a white hoodie with blue and white plaid shorts. He has a pair of shoes that are white. He wears glasses that have a slightly blue tint almost all of the time, a wallet with the valid ID of this RP's place in it, a blue pen, a cleaning cloth for the glasses, a pocket watch, and a phone (if they are in this world).
ABILITIES: He has claws that are located at the tips of his fingers. They are 1 inch in length and can withstand anything up to stone. He can also withstand temperatures down to 26 C.
~~~~~~~~~~~~~~~~~~~~
Name:
Rai
Forum Name:
Bimugen
Sex:
male
Age:
most likely 18-22
Species
: Appears human
Appearance:
History
: Very little data has ever been built up on the boy called "Rai". He speaks almost in riddles to people, that or attempts to seduce them. He appears to be able to Teleport at some type of will, knowing many things of many places. He claims to care less about life until he can find it's meaning, and until then, live it up as much as possible. Likes glitter, military soldiers, butlers, and blondes.
Accessories:
Glitter Smoke Bombs (1 every other battle), iPod
ABILITIES:
interdenominational space manipulation of small portals, mainly 2 portals with one long chain coming from each, in a radius of his 2 arms spread out sideways. His sonic scream can send people close by back a small amount and stun them with a massive screech. The Scream is very rarely used (once every 3 fights). He Teleports to different areas, but this uses more energy than the chains, is very inaccurate, can't be used in battle, and has a good amount of cool down and start up time.
Theme:
Casino Park
~~~~~~~~~~~~~~~~~~~~~~
Name:
Renard Rockefeller
Forum Name:
Ashton Rockwell
Sex:
Male
Age:
17
Species:
Human
Appearance:
Renard is 5' 10" with pale white skin, short, spiky dirty blond hair with no bangs, and a rather bland complexion. He wears a black and green striped, short sleeved T-shirt under his black blazer, and wears a pair of long tan carpenter jeans. His choice of footwear is a pair of white and red tennis shoes with clashing, dark blue socks. His eyes are a light shade of blue with a hint of green around the pupil.
History:
Renard lived a rather simple life. He had always been a creative lad, as he couldn't get enough of expressing his creativity, even at an early age. His parents were middle-class economically, and while he would have to work for everything he wanted, he certainly didn't hate doing so. From writing stories, to painting pictures of dazzling landscapes, Renard wanted to vent his creativity, and his parents supported him in this venture, so long as he would do his chores, help them pay for the art and music lessons that he would always attend, and get good grades in school. Up till his 15th birthday, Renard was living in a creative heaven, until his world started to fade around him. His tan skin became pale, anything he touched became saturated, like he had stolen all of the color within it. He couldn't tell if he had become colorblind or not, but, while painting one day, a symbol entered his mind, and as he drew it, a small golem, made of twigs and light, appeared and crashed into the wall in front of Renard, blowing a hole into it, and leaving the boy amazed and frightened all at once. Now, two years after learning about his ability, Renard will try to live his life normally amongst the people of Miscellaneous City.
Accessories:
Renard wears a pair of bright yellow, fingerless gloves on his hands, and has a bronze pocket watch that is stuck on the time 2:14. He also wears a Violet set of headphones that he drapes over his neck until he actually wants to listen to his music.
Abilities:
Renards "ability" allows him to control color within himself, and use it as a means of casting magic and spells using simple shapes that he draws with his fingers. Renard can learn more spells as time goes on, but if he uses up too much color, or doesn't absorb color within a day, the color within him will empty, and he will fade away into nothing.
Currently, he knows two spells. The first is referred to as Wasp, as it summons a floating golem of twigs and color from mid air directly in front of Renard that flies towards the target and explodes upon impact. The explosion is more concussive than anything, rendering it from being able to actually burn the victim like a normal explosion would. The speed of the Wasp and the damage dealt by the explosion very upon the amount of color used in the golem's creation. If a small amount of color is used, the Wasp flies very quickly through the air like an arrow being fired from a bow, but the damage it does would only hurt as much as, say, getting hit with a small hammer. On the other hand, if lots of color is used to create the golem, it travels very slowly, like a bowling ball traveling down a lane, but when it makes contact, it's explosion is equivalent to that of a hand-grenade. The Wasp can also home in on it's target, however, it can only change it's linear flight path once before continuing on in a straight line.
The second spell, called Shell, creates a protective barrier around Renard that is one foot taller than him and covers a half meter radius around him that protects him from attacks. However, while Shell is active, Renard cannot use any "glyphs", as they would simply bounce off of the shell and hit Renard. The shell's duration depends upon how much color is used to make it, ranging from one second at least, to fifteen seconds maximum.
Theme:
Nefertiti
~~~~~~~~~~~~~~~~~~~~~~~
Name:
Kohomaru
Forum Name:
Kohomaru
Sex:
Male
Age:
Body: 17 Real Age: 120
Appearance:
Kohomaru doesn't wear any modern or old clothes he wears a very long white short and a skimpy blue jeans. His body is not really boyish build. He got more the curves of a girl cause of this he is often mistaken as a Girl. His Skin is very pale he seems to get no colour from the sun. His brown long hair often falls into his face and he often uses it to hide behind it.
His height is 1.56m and he only weight 39kg. He got two fluffy grey dog ears and a grey tail with a black tip.
Species:
Human-Beast
History:
Kohomaru was a calm boy who always stand out of everything. He only watched and never interacted on his own. But because he was so shy and calm he was captured by a crazy Guy. He was forced to an insane Experiment that would change his whole life. All he could do was just accepting his fate. He was fused with a beast. It was mix of different canines and now it would be fused with a human boy. Somehow everything went out of control and as the two bodies became one the machine exploded into a gigantic fireball. It turns everything to ashes, only… only the little boy survived. He hasn't changed that much but somehow he got two dog ears and a long tail. From that day he knew that the others won't accept him anymore. He decided to stay out of any big city and just study in peace in small villages. He used to hide his Tail and his ears in Villages. After a lot of studying and wandering around he discovered something about his Body. Not that he become really fast and flexible he can transform part of his Body into giants and savage claws. But to use this power he paid a high price. Every time he uses this power pain will flood his body and wring out a lot of his Energy.
Accessories:
He got not that much only his long shirt his jeans and a small pendant that he wears around his neck.
Abilities:
Since he is a human-beast he fast and flexible but he isn't that strong because of his body build.
His other Power is that he can transform arms or legs into savage giant claws to strike. But the transformation is very painful and energy draining. His arm or leg that transform will turn back to normal very fast.
Theme:
No One Can Put Back the Clock ~ Halloween
~~~~~~~~~~~~~~~~~~~~~~~~~~~~~~
Name:
Joshua Walker
Forum Name:
JoshuaBlaze
Sex:
Male
Age:
20's. He's lost any care to keep track, but it's around there.
Appearance:
Joshua is a man stuck in the 20's. Big bands, trilbies, fedoras, over coats, ties, dress shoes, khakis, and straps that come from your waist all the way over the shoulder and down again. That is him. His favorite is a short brimmed black trilby with a dark grey band that comes around the crown of the hat. Over his body, Joshua wears a three piece suit, the tie purple and brown stripes with a splotch of red at the bottom. He wears a black suit jacket over a black low collar two button vest that lays over a white button up shirt. The jacket is always left open. Over the shoulders of the shirt two red straps extend up and down to his black trousers, keeping them at a secure and comfortable level with his waist, they are hidden under the vest. And finally on his feet are a pair of black shoes with just as black socks under them. Yes, his boxers do have hearts on them.
As for the man himself he has hair like fire. Red that stops just under his ears on the sides, over his eyes brows on the front, and down to the top of his neck in the back. Perfect for wearing hats with. His skin is creamy, his face, handsome yet so sinister and dark, if a bit hurt. A scar runs from the bottom of his left eye down to his jaw, as if he fell or got nicked good by a knife. Lastly his eyes…they are odd. One, the left is mainly brown with a patch of green in the upper left hand corner. The other, the right, is mainly blue with a patch of green in the opposite corner, the right corner. He hears often they're beautiful…heheh, stupid bitches.
Species:
Human.
History:
"Isn't life so boring? Isn't life just so dull? Don't you just want to break out of your tedious routines and scream until your throat becomes raw and bloody? Heheh…well I think I can help that. You see my life is about…helping people like you. Oh yes…I can break your routine. Instead of walking calmly to work you'll huddle up in yourself, you'll be looking over your shoulders for the slightest sign of movement. Instead of working nonchalantly at your desk, you'll be wishing the clock would never move so that you could stay in the safety of your co-workers. You'll eye it, sweat as the hand comes closer to quitting time. And instead of sleeping at night you'll lay awake with all of your lights on with a new Rottweiler dog to guard you as you sit shaking on your couch praying for the sun to come up. And I will help you scream. Again…and again…and again…"
Josh's life starts normal enough. He was born to a father and a mother. He was an only child, and thus was spoiled like one. He was given toys, cloths, cars, instruments, electronics, whatever he wanted. His parents relinquished these to him without pause or hesitation and never the thought that maybe they were raising a brat.
So Joshua grew up with the idea he could get what he want when he wanted. So he got all the girls because he wanted them. He got all the best part in school plays, because he wanted them. He got captain on the team because he wanted it. No one really enjoyed Josh because of this, however. He was a greedy boy, teenager, and man. His girls left them as quickly as they came, his positions given and taken away within weeks. And the acting career...well let's just say if it weren't for his parent's seemingly endless pockets, Josh would've been dragged off stage by the end of Act I.
When of age, Joshua moved out of his house, his parent's money followed. He bought himself a nice home, another car, and became a rich snob who did not work and did not care much for himself or others. Josh drank, he did drugs, and he laid with a many of women on weekends and some on the weeknights. And...on one of these nights, Joshua ran into a certain woman. Veronica Edge. She was a beautiful woman, full of life, adventurous, and perhaps best of all, married.
So Josh spoke to Veronica, seduced her, and laid with her. He did this again…and again…and again. They held no love for each other, but Josh, somehow with his charisma, was able to bring her to bed on a number of occasions…and then one night she had enough. She could not handle the guilt, and she would admit her affair to her husband. She told Josh that…famous last words. Joshua snapped, he threw a fit, wrapped his arms around her head…and snap. As her neck broke so did his mind…
Currently, Joshua wanders about, and…heh…well you'll find out.
Accessories:
One switch blade knife. Handle is a steel grey, just as the blade is.
Abilities:
Clever and skilled knife work, as well as decent observational skills. He's good at staying out of sight, under the radar, and some very simple spying stuff. He's no Solid Snake, but he's a good scout or eye in the sky should the need arise. Also he has a profound way of being a glorious bastard.
Derailment: A transmutation circle sits on Joshua's left hand. It is a broke circle however, and thus, a half done one. Because of this, Joshua cannot do true alchemy, he can only deconstruct, and make objects lose their bases or simply collapse on itself. He has found some good uses for this however. He is able to collapse building walls as he runs by, blocking the pursuer's path. He's able to make pot holes to catch them in. And he's also able to destroy certain weapons and other objects to make a path for himself. But also because it is a half finished circle, he is somewhat restricted on how big of a thing he can break and collapse. When it comes to making holes in the floor, the hole at most is ten feet deep, and twenty feet wide. The walls he can take down are at most twenty feet wide and twenty feet tall, allowing for a good amount of debris. And the weapons he can break are small arms only with the exception of guns. He cannot deconstruct complicated things however, like bombs, cars, airboats, or computers. They have to be simple. Also Josh always needs to use his left hand for this alchemic usage. His right hand does not have any effect on anything.
Theme:
When the Man Comes Around
~~~~~~~~~~~~~~~~~~~~~~~~~
Name:
Syl Tamashii
Forum Name:
Squall
Sex:
Male
Age:
17
Appearance: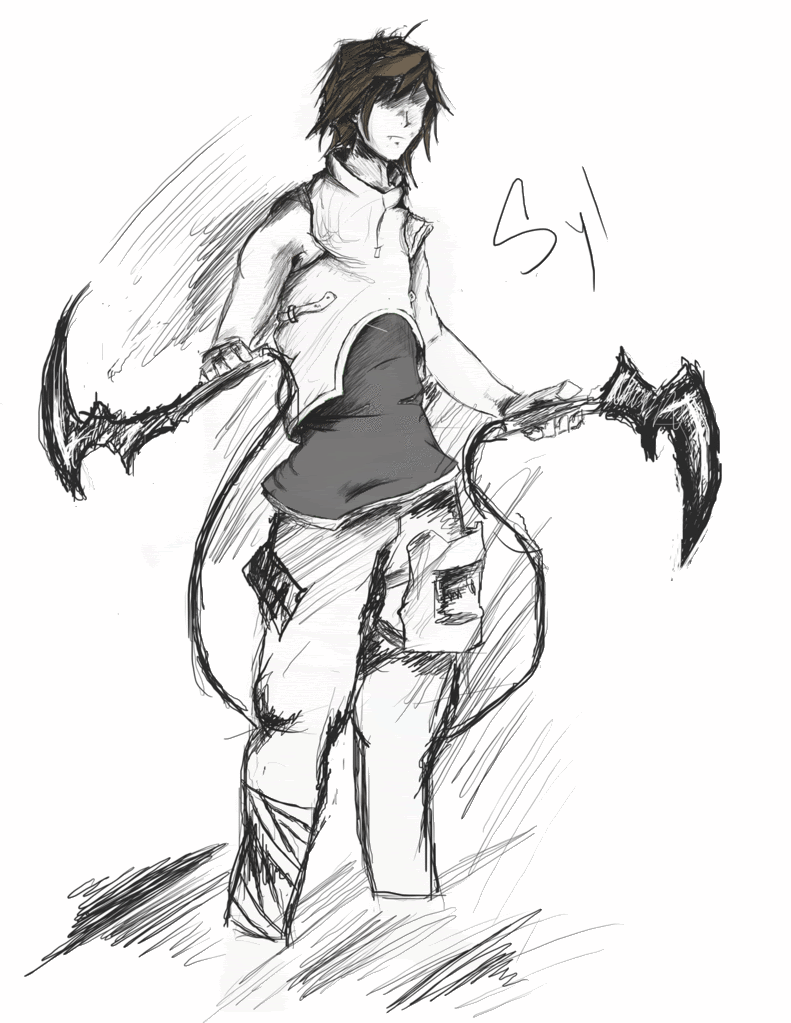 Species:
Human/Snake Beast-kin
History:
The clan of Snakemen has always lived as a tribal warrior group, training their skills in fine nerve toxins and blades. The destructive force of this clan has been valued as both assassins, body guards, and other "high profile" trades. They valued themselves as the Guardians of the Will of the Gods. The warriors are incredibly devout in their vision of the "spark", or what people might call the spirit of the world. It is taught that the Gods planted the spark in Titani, which caused the world to grow. This spark gives humans, and in fact all of nature, its traits. The search for this source of the world is a rite of passage for all of the clan's warriors, however it was optional when to take the pilgrimage.
One day, one of the beastkin of the village mated with a human woman. The child was more human than reptile, but lost his sight in the exchange... such is the way of inter species mating. He was accepted into the clan, however, his human mother was cast away, and he was only given limited contact with his father as punishment for the taboo relationship. Finally, he was enlisted into training to become a warrior, so that he may take his pilgrimage and leave the village as soon as possible.
Since he was a young boy, he was regarded as having potential for being one of the best fighters of the village. The arts of his clan and sensory abilities of his "snake" side have allowed him to sense prey in a less traditional manner, and he's noted to be able to recognize magical properties of other humans and objects. This made up for his lack of sight. He rose to the top of the ranks and soon became Village Champion, gaining the respect of all those who would oppose and fear him.
Later that night, as he was reading the books that had taught him all about the world he lived in, he had a revelation. Syl kept what he had discovered to himself, and told the Village Leader he would be taking his pilgrimage that night. As soon as the elder accepted his offer, Syl drew his weapon and struck him down. He methodically killed every single villager. Finally, he came upon his father.
"Stop Syl! Are we not blood!?"
"You think I care about blood? Fufufu... I'm going to show you... No... The whole world, the despair... the sorrow... the pain! The Truth!!!"
With one well placed slash of his Kusari gama, blood streamed from his father's wounds as Syl exited the hut, moving on towards his unknown destination.
Accessories:
Uses Kusarigama for weapons:
http://i118.photobucket.com/albums/o115/Aurin_Starkiller/Kusari-Gama.jpg
Uses poisoned blades to deal a nerve toxin to the opponent, decreasing his prey's abilitiy to move freely and easily over time. Has the ability to harden the density of his skin by manipulating magic to reduce pain for a short amount of time, but takes the pain as the fight wears on.
Has an innate sense of smell and hearing, due to his beastkin heritage, however retains a human like sense of touch and awareness. Never the less, loss of sight has not been a problem for Syl.
The skills that the Snakemen have taught him over his childhood give him the ability to sense the magical abilities of other people and objects. This means that due to the fact that all humans carry the ability for magic, he can sense their presence, although those with less magic potential are harder to detect. These people appear as small wisps in his "vision" while those who are incredibly potent in magic appear as fully shaped humans.
Has fairly increased speed, allowing him to dodge and outmaneuver slower attacks, and can swing his chain and sickle(Kusarigama) to attack from a range, allowing him to hit more nerve poison to slow down his opponents.
Theme:
Hey John, What's Your Name Again?
~~~~~~~~~~~~~~~~~~~~~~~~~~~~~~~~
Name:
Grey Prides
Forum Name:
Reymon698
Sex:
Male
Age:
18
Species:
Human
Appearance:
History:
When Grey was a Kid, he was often Bullied by Fellow Classmate, Untill one day, He, Took actions against a few. The Boys decided to Force Him to Fight. This incident ended with the Scar on His left Eyebrow. Since that day, He decided to Become stronger, In order to Protect himself.
In school, while he never Started a Fight Himself, always was the Last Guy Standing. He caught the attention of the School´s Boxing Club President, Which made him Join. Due to his Determination and His Lifestyle of Taking everything to The extreme, He Took the Position of President of The Boxing Club, After the Former graduated. He always remember, That if it weren't by his Determination to himself, He would have never Decided to become stronger, and never would Get to where he is. He was raised by his Father, Never got to Meet his Mother, Though, He saw some pictures of his mother while she was pregnant of His upcoming sibling. Unfortunately, his father told him that his Sibling dint made the Full 9 Months and so, died before Birth.
Accessories:
Two Pair of Sport Gloves, With a Metal Plate to add defenses, These gloves also Took From his Own Physical Power, and Manifest it As Flames. a Silver Chronometer Given to Him by his Father, the day he Joined the Boxing Club. and Most of Time (When Is Not Dirty) He Wears his casual Gray Jacket.
ABILITIES:
Street Fighting and Boxing. He learned them both on the streets, and from a professional teacher
Theme:
Salamander
~~~~~~~~~~~~~~~~~~~~~~~~~~
Name:
Akane (A-car-ni)
Forum Name:
.:TM:.
Sex:
Male
Age:
19
Appearance:
(the red cross like scar on his cheek was cruely burned into him during the attack by the crime gang)
Species:
Human
History:
He has spent most of his life as an orphan as his family got on the wrong side of a crime gang and was attacked, during the attack in question he was struck by a spell in the eyes which blinded him but the spell had an side affect that strengthened the neurons in his brain and gave him Telepathic and Telekenetic abilities to compensate for his blindless. Has since started honing his skills with this ability and his ephemeral weapon ability and acts as a vigilante.
Accessories:
His trademark accesory is the cloth he wears around his eyes (due to his blindness) and for him it is a momento to his murdered family. Also has his own motorbike he uses to get around (assuming that motobikes exist). As for weapons, he can temporarily summon a variety of weapons with his "Ephemeral" ability (see abilities)
Abilities:
Akane is blind, however his telepathy allows him to virtually paint a picture of what is around him in his mind, allowing him to see even better then someone could normally. He also has teleknetic powers to move objects with his mind but this ability cannot be used all the time as Akane has suffered migraines and even fallen unconscious for trying to move items that are too big, or move too many items at the same time. His third ability is called "Ephemeral" where he can summon crystal like weapons at will, he can summon a variety of weapons such as swords, spear, daggers, axes, bows and arrows. He can summon five weapons at a time ( but with arrows he can summon about fifteen at a time) and then he must stay with those weapons for the next few hours, then, if he chooses to, he can dismiss them and summon a different weapon in its place.
Theme:
Silent Hill 2
~~~~~~~~~~~~~~~~
Name:
Kristoph Ordo

Forum Name:
ChrisX

Sex:
Male
Age:
35
Species:
Human

Appearance:
History:
Born in a snowy mountain Kristoph grew up as a fairly idealistic boy taught in the ways of chivalry and knighthood in the Order of Blizzard Knights, part of an unified Order of Holy Knights. He specialized more in sword fighting, but as an Order of Blizzard Knights, he is required to have the training of ice magic, although he's not really perfect, he was pretty adept in it. And as an Order of Holy Knights member (which encompassed all Orders), he's also required to learn healing magic, but only on medium-low level as he is a Knight, not a Cleric.
He was taught that as a knight, he would be a shining example of goodness and has a deep-seated dislike towards evil. He idolizes a lady knight from the neighboring Order of Flame Knights, named Lycia Faylen and although they never meet eye to eye, he's heard tales of her, a strong knight with deep sense of justice, cares for the people, selfless and is a good friend especially to children. Considering her a perfect idol for knighthood and a shining example of goodness, even if the world was getting dark, Kristoph trained harder to be as strong and as kind to her.
Until one night on a patrol in a neighboring city.
Kristoph was told to investigate a group of criminals posing as a 'charity group' led by the rival of Order of Holy Knights: Order of Dark Knights. Once the leader was spotted, Kristoph gave pursue and attempted to cut off the leader's head... only to find his sword blocked by none other than Lycia. She didn't say a word nor reply to Kristoph's yells asking if she has really fallen and just followed the criminal leader loyally.
The mission ended in a failure, and Kristoph's mentality was devastated. Was Lycia actually evil all along? Was her kindness and chivalry a complete lie? Further investigation gave only as much as information that 'Lycia has a deathly-ill lover and the Dark Knights offered her a cure, even if the lover has begged for her to stop and let go'. Kristoph, already with his mind shattered, refused to believe such thing. He considered Lycia a liar, a traitor, her efforts were complete lie, that she truly had no sense of justice.
From that day, Kristoph left his Order of Holy Knights and swore to rid the world of evil while maintaining his morality. He became completely scarred to love, refusing any advances despite his rugged look, stating, "If love can turn you to the dark side and lose your sense of morality... then I have no need of love." He also renounced his idolizing to Lycia, considering her a traitorous bitch who dared lower herself to evil for such a selfish desire.
He still accepts friends and his sense of justice is what prevented him to be a monster, but his fanaticism towards evil starts to grow and his antisocialness did not help. However, whenever people asks for help, he will not hesitate to help and he tends to be kind to those who are truly innocent. A Knight in a shining armor to those in need, but deep down is a depressed, scarred, disillusioned man about what love truly is. Without a friend, or any of those who shared his plight, he moved without aim, except helping people in need.
However, the mere mention of Lycia would usually get him into a frenzy. He hated Lycia, bitter on her betrayal. But deep down in his heart, there's a part of him crying to forgive her and think that she needed a savior. Kristoph mostly wanted to agree, but the image of Lycia's betrayal continued to cloud his mind...

Accessories:
Cape and a full plate mail. He is also adept in small gun fight. His main forte is a two-handed sword that is really sharp and can behead dragons in few strikes.
ABILITIES:
Expert at sword fighting, can swing a really huge sword with great precision, strength and speed. It's not as fast as someone swinging a one-handed sword, but still pretty quick for a two handed sword user. When situation demands, he can get gory about cutting the opponent in two or such. He didn't mind blood splattering on him.
He's also rather adept in ice magic, but not on expert level. They're mostly limited on summoning spikes of ice to damage the enemy or ice balls to freeze the enemy on spot (kinda like Mortal Kombat's Sub-Zero). His main forte of spells, however, is enhancement magic in regards of ice. Such as covering his armor or sword in ice, or making up ice bullets for his gun. The ice magic ranges just about as his maximum eyesight goes. The ice will travel as long as his eyesight, even if he's blindfolded (of course that means he's shooting like crazy in that case). However, the ice is meltable because of Kristoph's less-than-expert aptitude with magic than physical fighting. But it's still really tough to break away or melt it easily. The fire needs to be strong. The addition of ice mostly enhances his attack strength and enables him to make his target halt and listen to him. He needs to talk? Freeze them on foot and he'll make them listen. Need to restrain people? Freeze them like using a handcuff and he's restraining. He likes it when he's being listened. Of course this doesn't mean he's abusing that power. It symbolizes that he's mostly a loner.
About guns, he's good at it, but better as swords. It works as his replacement for the old-school crossbow. It's just a normal revolver gun by the way. It can be enhanced with ice bullets. But he's not into 'stylish style' like Dante of DMC.
And lastly, being a member of the Order of the Holy Knights, it's required to learn healing magic. It doesn't heal much, probably only medium-level wounds like bruises, small bleeding, fatigue. And he has to touch the recipient for it to take effect. Usually heavier wounds are to be tended by high level clerics of the Order
Theme:
Irony of Fate
~~~~~~~~~~~~~~~~~~~~~~~~~~
Name:
Relic (Code name, real name is unknown)
Forum Name:
Shadowstrike
Sex:
Male
Age:
18-22 (techically unknown)
Species:
Human (enhance though the mix of techology and magic)
Appearance:
Brown Hair, Red eyes, wheres a black open jacket that only has one sleeve on his left side it also has his oraganization symbol on it, black shirt, has a pair of two black fingerless govles on both hands, black pants, sometimes wheres a cloak with a hood(mostly while traveling)

History:
He works as a agent from a organization called Nightmare by the people of the world. They are a indepent organization that work for no contry or single person, other than the Director. Thier goal is to eraticate crime and criminal orgainzation of the world though any means nessiary (they pretty much live outside/do thing against the law), even though the world sees them as a terrorist group. Relic work as an agent who was tooken from his family when he was just born and was experimented on before being trained in combat and assassination skills at a young age, and rose to become thier rank 12 agent. He now heads to Diavol on a mission to 1) eliminate a criminal oraganization, 2) investagate the dissaperance of 5 other agent who went on this mission without orders one of them being someone he considers his best friend
Accessories:
a sheath for his Ninjato(Ninjaken, type of katana like sword), Nightmare oragzation mission surpiles
ABILITIES:
Shadow Manliputaion(has the ability to control and attack with any shadow in the area with out being affected by how bright the area is, however light based attacks can deprises it while dark based stregthen it. He can use the Shadow to make a clone know as the Shadow twin, of after adding his mana to his opponent Shadow he can make a clone of his opponent know as Shadow Doppaganger. copy any fighting style and weapon the opponent uses as well, this ability is use as distraction. He can use the Shadow to also teleport(you cannot do this rapidly. You cannot teleport to a specific spot, even if it is within eye sight. It is inaccurate, leaving you in the general area. For example, if you want to teleport into Diavol from the outside, you could end up ANYWHERE within Diavol. its got one hell of a cool down time, so once you use it, you'll be weakened a bit, as if you'd ran a couple of miles, and so you're somewhat vulnerable after the teleport.), blend into the back ground and attack offenisvely or even as a defensive shield, from various weapons, or even combine with his Ninjaken. Thier is however only so much shadows in a giving area, using all of a shadow will make unuseable until it reforms (the bigger the shadow the longer it takes to refrom. the size of the object the shadow is from also and distance affects it's power (using shadow spikes from certain distances will make it come out brunt, while up close it can nearly priece though anything), also smaller shadow can olny be just as small as the original object with mixing it with other shadows. (a paperclips swhadow with come out only to the size of a paperclip) Shadow Twin and Shadow Doppaganger uses all of his Shadow(Shadow Twin) or all of the target's shadow(Shadow Doppaganger) making him can't use any other attack from that shadow
Theme:
Strength-Soul Eaters 4th ending
~~~~~~~~~~~~~~~~~~~~~~~~~~~
Name:
Zorgen
Forum name:
lollipop

Sex:
Male
Age:
17

Species:
Human
Appearance:
Uhh, tall, umm, very long straight blonde hair, yellow eyes, pale skin. As for clothing...
http://browse.deviantart.com/?q=emperor ... 4#/d37hpag
, just change everything purple to red. Also wears shoes that are similar to the ones BB NOL people wear, just black and red
History:
Being born into one of the families destined to protect the order of the city "Faeuruyd", he had to train fighting with his weapon of choice, that is a scythe, since his youngest days.
At the age of six, his parents sent him to a local school.
No one really wanted to befriend him back then, afraid of being punished by his family after doing something stupid, against the law.
He tried all his best to attract attention of his fellow classmates, all they did however was mock him, laugh at him and ignore all they could. It did not keep on being only ignoring though, it evolved into hate, hate which had no real root, one could say it could be classified as 'bullying', but try saying that to a small child, he will not believe, he will think all the hatred in the world is centered at him.
He learned to hate back, and after he beat up one, two, three or more bullies people preffered to ignore him rather than hate on him in physical form.
The hatred inside of him did not go away though, he materialized the hate in the form of destruction, firstly starting with mere pencils, rubbish on a junkyard, and ultimately, everything.
He enjoyed it, he felt completed when he had the very existence of an object in his grasp, when a mere move of his finger could decide wether the item is destined to be destroyed, or keep on existing.
After he left school at the age of 15, all alone, he decided to leave Faeuruyd and move to some other city, where he could live without hate.
His parents however, having no other child, were absolutely against it, who else could represent their family as the general of the law enforcing team?
That night, he started hating even them, the only people who were supporting him for his whole life, now were against him. He chose to vanquish the new seed of hate before it could fruit into something big.
He prepared the strongest spell he found in the family books, the ingredients, and one week after the declination of his decision, the house of his family was no more, only debris where the house once stood.
Since that day he is living on his own as a traveller, using his fighting abilities and inherited magical talent to, ironically, break the law and live off being a thief.
The strings of fate now led him to the city of Diavol.

Accessories:
None really, just his weapon, that is a black scythe with some crimson parts.

Abilities:
Summon fire and control the fire he conjured at his will. The fire is not very strong and disappears after a while.
Theme:
God in Fire
~~~~~~~~~~~~~~~~~~~~~~~~~~~
Name:
Saki Nanaya
Forum Name:
Miria
Sex:
Female
Age:
16
Appearance:
replace current outfit with maid outfit
~
Species:
Human
History:
When she was young, Saki had a love interest, but that person she liked chose someone else.
Making her mentally unstable, she killed both him and her.
Her family banished her by selling her as a maid.
Accessories:
Nothing special. Just fifteen knives and maid outfit...~
Abilities:
Death Perception: After the murder of her of the man she admired so much, Saki, found that she could see something beyond what most people could see. Lines. These lines covered every object and person she could see, looking like cracks along the surface. When Saki cuts along these lines the damage given from her attack is much more severe than from a normal slash. This allows her to do some great
damage without being too strong. These lines also seek out the weak points in armor so that she can attempt to penetrate her opponent's armor with greater ease.
Theme:
Thrilling
~~~~~~~~~~~~~~~~~~~~
Name:
Fal Dahcree
Forum Name:
BeaverDeity
Sex:
Male
Age:
18
Appearance
: Despite his bright orange eyes recognizable from a distance, this Puma Beastkin is a hard face to remember. Nothing really stands out in particular from anybody else, except the fact that he's a beastkin.
Fal has small brown puma ears atop a head of darker brown hair. He wears a sleeveless muscle-shirt complemented by a muffler/scarf that hangs around his neck and upper shoulder area. He wears a large pair of pants, modified so that his tail can come out the back. He wears nothing on his feet or hands, but they are as tough as an animal's paw because of his heritage and training. Some of his teeth are slightly sharper than a regular human's, as a result of Puma blood in his veins.
Species: Puma Beastkin (Puma is a large cat)
History
: The child of two beastkin adults that were still "rabid" persay, Fal didn't really grow up to be very "normal". Especially in the human community, he was persecuted as a mongrel and other various names. The persecution grew so rough eventually that he had to leave his place of residence which was in the middle levels of the city. Was a shame really, for his mind was rapidly developing at a pace that was unheard of for a child of semi-rabid parents.
His parents refused to take whatever "cure" or "condition" that was required to spare their sanity and mental capabilities, so as they slowly degenerated into monsters the locals in the neighborhood found justification to "put them down like the animals they were" so to speak. The majority of the group being pure-bred humans, they decided to spare the child as it was showing mental capacity that was promising. However, he was left there to fend for himself without a family. He survived, of course.
He grew up, making a living doing various errands for people and in general, being a servant. As he grew up, he taught himself how to fight and use his animal instincts and reflexes to better his combat prowess, and Fal eventually grew to love and master the nunchuks. He was a master pickpocket, but didn't really use this talent because he worked a lot of the time. However, when he wasn't working he would love to steal and plunder from the people that passed by, just because Fal is that moody.
Accessories
: Fal doesn't really wear any accessories, but likes to have a more plain appearance. The only thing that could be considered an accessory is the locket with the picture of his parents inside, but he keeps that in his pocket instead of wearing it.
Abilities:
Fal has no special abilities at all that border on anything out of the ordinary, he fights with a single weapon: Nunchuks. That doesn't mean he's not good without them, because he can fight hand-to-hand if needs be but he is much better when put together with his beloved Nunchuks. His movement prowess and reflexes are slightly higher than average, also.
Theme:
Cornered
~~~~~~~~~~~~~~~~~~~~~~
Real Name:
Ark Aurelius (are-ell-ee-us)
Alias:
Spark
Forum Name:
Overlord Almaz
Sex:
Male
Age:
16
Appearance:
Brown Corporate-cut hair, light blue eyes, with a normal build(not skinny, not fat, not muscled, but not pathetic looking). Always seen wearing a lab coat, red and white sneakers, blue jeans, and a black t-shirt.
Species:
Human
History:
Ark was born into a wealthy family that lived on the upper level of the city. He grew up spoiled for most of his life, becoming an annoying brat by the age of 5. Even though he never did well in school he was a genius when it came to alchemy and magic, both of which he enjoyed. His parents, deciding it was for the best, sent him to a well known School for the alchemical and magical arts. He "accidentaly" burned the building to the ground during an experiment to try and create a contained explosion. Though he was punished for this he continued to experiment with explosive devices, alchemy, and magic, earning him the nickname 'Spark'. When Ark was about 13 and just returning from a school trip (on which he had started a deadly game of fireball tag, leaving 17 students injured, and the principle in a cast while Ark himself was only singed.) he got word that his parents had been killed during one of thier own experiments. Devastated, Ark was left alone, heir to his parents fortune. Many expected him to continue in his parents footsteps and become a researcher. Instead, Ark grabbed his fathers lab coat and ran from his house and into the lower levels of the city and out into the wild.
After he left the city Ark became a wanderer, doing odd jobs here and there until he was 16. After he wandered around enough he decided it was time to go back home. Ark grew over the years of living in the wild, maturing from a spoiled brat into who he is now, and he was ready to face the past along with anything else that stood in his way.
Upon returning he found out that an uncle of his had taken the family fortune over, and had been using it to perform illegal experiments on humans and beastmen. Ark was furious, and had to control himself so that he didn't kill the man then and there. The uncle invited Ark to stay and become his adopted son. Ark agreed. What the uncle didn't know is that Ark was plotting his death each and every moment.
After half a year had passed Ark Had decided it was time. Goading his uncle into letting him see the experiments(now more monster than human), he trapped his uncle in the containment room ((think resident evil 5 in the licker containment area)) he released the locks on the all of the cage doors. Ark watched as his uncle was shredded by the mutants, taking a type of satisfaction in his work. After he was through enjoying what he had done Ark set the entire building on fire, destroying everything inside, including the family fortune and the mutants.
Ark felt a weight lift from his shoulders with the loss of the fortune. He never really wanted it, he had just wanted to live peacefully up until now.....but he had found something that he enjoyed just as much as peace and quiet. He grinned a twisted grin and said "Well, I guess people don't kill themselves, now do they? They need someone to help them with that problem. heheheh...."
Ark is currently wandering the lower city, enjoying the peace of his new neighborhood, which other than certain brave people or animals, is relatively devoid of life.
Accessories:
Even though he is only 16, Ark carries a cane that used to be his fathers. Ark also has an alchemic stone on a chain, that used to be his mothers, which he carries around like a necklace.
Abilities:
Pyro: Mastery of fire alchemy, magic, and explosive devices (mostly). He can, to a limit, control the fires that he conjures. If he tries too much he runs the risk of the flames backfiring and injuring him.
Fire Immunity: Immune to most fire based attacks, unless they can outmatch his power.
Say, a more powerful fire controller comes along and throws a high-popwered fireball at him. Ark can either A. dodge the firebal, or B. guard against it and try to reduce th damage. If he takes too many fireballs from his opponent though, then he will die.
Unique hand-to-hand style: After fighting and killing many close-range warriors, Ark has developed a style of fighting meant to keep opponents at a safe firing range.
Fighting moves:
Wars Inferno: Ark creates a a mass of fireballs in the air and sends them at his opponent. (think Laharls "Overlords Wrath" move). A symbol, which the fireballs come from, appears nearby Ark then float into the air above him and his opponent.Once he snaps his fingers, the fireballs converge in an explosion.
Hellfire: Ark conjures a storm of fire around his opponent. A symbol appears on the ground underneath the opponent first, so that he can channel the spell directly to them. If the opponent sees this and moves away from the symbol in the short time it forms, the attack will miss. To activate this attack Ark raises his hand palm-up to conjure the symbol, then closes his hand to summon the flames.
Chaotic Flames: Ark summons a massive amount of symbols at random spots around himself and his opponent. Once all of his energy is used up, the symbols begin spewing flames in random directions. Though powerful, it leaves him drained to the point where he collapses from exhaustion. If you manage to survive this, you've pretty much won.
Theme:
Nameless Light
~~~~~~~~~~~~~~~~~
name:
Evans J. Duelheart
forum:
soulking14
sex:
male
age:
16

appearance:
height 6.2 1/2
species:
human
history:
A wanderer who doesn't know the meaning of quit, he was always by himself. his parents died when he was born, he basically raised himself and became a thief at heart. he doesn't like to fight so he stays out of the spot light. he doesn't know his own origins or where he came from. he has a kind heart and helps people when he wants to. the only danger is if he gets angry his other persona comes to life they only call him "Wraith"
acc:
What the pic has, a dagger, and a sword thats usually on his back
abilities:
Controls wind, can increase the sound vibrations to make it louder and distract enimies or sneak away by making his foot steps quieter with the air, can cause a tornado the size of his arm to appear and use as a weapon if it gets bigger he become exhausted.
Theme:
http://www.youtube.com/watch?v=65x0_JqqamQ
~~~~~~~~~~~~~~~
Name:
Jinelle Sand
Forum Name:
Kirby1112
Sex:
Female
Age:
24
Appearance:
A young woman of average stature and weight. She has short chestnut-brown hair that is normally set messily atop her head. Her eyes are bright green, and her skin is a light tan. She wears a dark brown jacket and a normal set of blue jeans, slightly worn at the knees.
Species:
Human
History:
A young woman getting straight into the journalist business, she has yet to write up anything but intends to make the break-through with word of the killer. As to how she'll do that, she is absolutely clueless. She feels a devotion to the case itself because as a child her own mother was killed through a serial killer, and she thinks no one should lose their life before its natural end. Has had a bit of a alcohol problem recently.
Accessories:
A standard civilian's pistol, was given to her by her father after the incident. A phone with many many journalist contacts, takes it everywhere she goes.
Abilities:
She's got a way with words. She can lie, charm, and do almost anything to get what she wants. She's never attempted either Alchemy or sorcery, but she seems to get by just fine with little besides her words.
Theme:
Before The Storm