This thread is dedicated to all the button movements, systems and workings of basic Blazblue combo reading and game play.

Blazblue uses a configuration with their buttons that is like an arcade, but somewhat different. You'll read in your manual and when reading combos that they say A, B, C, D, etc... These are the conversions for those buttons:
Blazblue-----Xbox-----Playstation
-------------------------------
A
-------------
X
--------
Square
B
-------------
Y
--------
Triangle
C
-------------
B
--------
Circle
D
-------------
A
--------
Cross(X)
S(Taunt)
-------
LB
----------
L1

The num-pad system is a little bit trickier, and although most people know the button configuration, they generally don't know the num-pad System. This is essential for reading combos, and should be learned very early. This picture shows a basic num-pad on a computer: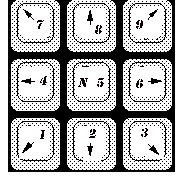 Each number corresponds to a direction, as shown on the picture. 5 being neutral, moving out in all directions, as the picture shows.

In Blazblue, there is a myriad of terms surrounding certain moves and how to do them. Besides character specific moves, like Daifunka (Bangs special, 2363214) there are terms relating to many other things, as follows: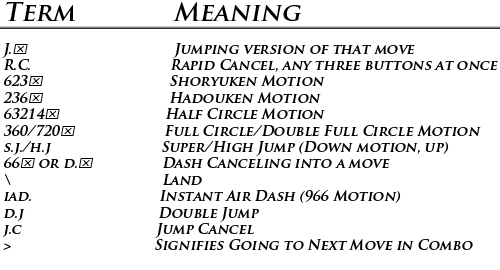 Just a stub on throws. In Blazblue, there are three types of throws. Green throws, Purple throws, and Command Throws. Below is an explanation
Green throws: Green throws create a GREEN exclamation mark [
!
] above your head. You are given a short time to escape, after which you'll be hit by the throw if you havent succesfully teched. Green throws are your standard throw type.
Purple throws: These throws create TWO PURPLE exclamation marks [
!!
] above your head. This type of throw only happens when your trying to throw an opponent in the middle of a combo. When its a purple throw type, your given much more time to tech than normal, and it should be easy with practice, to dodge every purple throw that comes at you.
Command throws: WTF? Command isnt a color! Yeah, i know. Thats because it doesnt create ANY exclamation marks above your head, and you cant tech. All you can do is dodge it, or youll be hit.
However
, if the command throw is used in the middle of a combo, then it will be given the same property as a purple throw, including the two purple exclamation marks [
!!
]. These throws always involve some sort of joystick movement followed by a button, such as a 360 or a 623 motion. (Tager/Bang). Just watch out for these and jump or get out of the way.


The main Idea of a burst break is to get the opponent off of you in a time of desperation. This is when your low on HP, or in a start to a combo that you know will end up killing you, or another qualifying situation. When you use a Burst, make absolutely sure of a few things:
1. If I burst, will I have the opportunity to WIN this round?
2. If I burst, is it obvious that I'm going to burst?
3. If I burst, will the range of the burst even hit my opponent?
You need to keep these in mind, in order to not waste a burst, get baited, or miss your burst altogether. Keep in mind, however, that bursting is not always a good idea. Sometimes it's better to save your bursts when you know you're going to need them. Also, remember that bursts can be used
offensively
too.
When you burst offensively, it's called a Gold Burst. Doing this knocks your opponent far in the air, vertically. This gives you the chance to perform a combo against your opponent, (such as Burst > Daifunka with bang) finishing him off near the end of a round, or damaging them whenever you perform the burst. In Continuum Shift 2, the proration (how much damage is scaled per attack) is positive, meaning you deal more damage with your gold bursts per hit. How do you gold burst? Well, I don't know the exact timing of the burst, but basically it's when the enemy is not attacking you. In other words, before the opponent hits your guard with an attack, you could gold burst. You could also run at the opponent and gold burst.

This is in case you guys aren't used to 2d fighter blocking... (Because in 3d fighters, there's High, Mid, Low.)
A short answer to blocking would be that you have 2 blocks. These are high and low. 3 if you count air blocking but that's kind of dumb. =P
When people try to do something that looks like it comes OVER you, (haha, overhead! get it?) block high, typically this is the slow things like Bangs 5C, Tao's 6B, and Ragna's 6B. When someone does something that's comes straight down the middle and hits in the mid, or aims for your feet, then it's a low. Another thing, almost anything coming from the air is an overhead. It makes sense, but sometimes even I forget...

Also, you can Barrier Block. This is done by holding both A and B down on your controller, creating a Green force field in front of you. When the opponent hits a barrier block, it will knock them back more than a regular guard would. This lets you get out of pressure easier. It also keeps guard primers from being taken away when the opponent uses certain moves, such as Bang's 623B (Phoenix Crash) A good player will know when to barrier block and when to normal guard.
WARNING: Don't barrier block too much, or you will lose your barrier and go into "danger mode". This is signified by Danger flashing across your health bar when the barrier meter below it is depleted. You take more damage when in danger mode, so be careful.
Next there are Instant-Blocks. When you make a block just before an attack hits, you flash white for a second, signifying that you have successfully instant-blocked. It allows you to recover faster from an attack that would normally put you into a longer block stun. (Specifically, 5 frames when you Instablock on the ground, and 10 in the air) It also gives you a varying amount of extra heat(Your special meter) when you instablock compared to when you are normal blocking. That's basically all there is to it. Haha.
Finally, something to note is Guard Primers. This replaced the Guard Libra system in CT, but is still very similar. Each character has a different amount of guard primers, with Tager having the most of them all. Certain attacks from each character can take away a single guard primer. This includes moves like Bang's 623B, and Jins 623C. Normal attacks can also slowly take away guard primers from the opponent. When guard primers are depleted, the opponent is barrier crushed, freezing them in place for a few seconds, fully vulnerable.


Counter assaults are a different type of combo breaker. Basically, you give up 50 heat to knock your opponent away from you in the middle of a combo. This can be extremely useful if your at low health and you need the opponent away but want to save a burst. When you execute a CA, you'll flash white for a moment, and then youll attack. During this attack youll be invincible, and when you hit the opponent they will be knocked away. The only exception with this rule is Noel's CA, which dodges an attack and places you behind your opponent to counter.

When two attacks collide, you can then cancel into another move, I.E., two Infernal Dividers clash, and you can then cancel into another ID, to catch your opponent with the second ID.
Here's a great example:
http://www.youtube.com/watch?v=xJZInsw9btk&feature=related

During the start up of moves, they sometimes have Invincibility Frames, or I-Frames. Some of these moves include the beginning of Infernal Divider, The beginning of Jin's Gale SRK, Some of the starting frames of Noels Drive, and more largely seen, Bang's Volcanic Fury, which has a huge amount of I frames. You can use I frames to go through enemies' moves and hit them, although they are attacking.
Example:
http://www.youtube.com/watch?v=lbXDniu4t9c&feature=related

Basically you bait by faking out a move, like whiffing it, to force your opponent to react, and then punish it. But it might also occur in block strings, like when Ragna does Pt1 of Hells Fang then baits an attack on your block, using Infernal Divider. There is also Burst Baiting, which means forcing your opponent to burst when you know they're bursting, then blocking or dodging the burst to take advantage of the cool down.

Well, this game is based off of playing one of few ways.
Some pre-terms to know...
High Risk/Reward: This comes in the forms of your overheads, your wake up supers, your tech traps, your wake up Infernal Dividers, and any other slow but efficient tool you can think of.
Safety: These are your poke strings, your regular defense, and stuff like that.
Now on to real style... or how I define it
Momentum: a.k.a Rush down. Keep hitting your opponent with your mix ups, block strings, and don't give your opponent the chance to breath. This goes with High Risk/Reward, in the middle of your rush, use something slow but unexpected that will give you a free combo on hit, like Bang's 5C, which is an overhead.
Zone: Keep your distance, use projectiles, quick invincibility moves, and just plain keep away to either wear your opponent down slowly but surely, or time them out. Goes along with safety, because you want to get in, get out. Your pokes do wonderful because you can jump cancel them and then go back, use projectiles, w/e.
Balanced: The best of both worlds scenario... Now, why would I say the first two, when most likely, being balanced is better? That's easy. This is because some characters are designed to be ONE of those two more than anything else. Take Bang for example. He has nails. That's really his only zoning technique, which you shouldn't use nails for zoning either way. He has a keep away game, but unless your being a jackass, it doesn't help to do it. Unless you're in FRKZ, then keep away is kind of flawed anyways.
Now, there are a couple characters with both styles though. Taokaka, Lambda, Rachel, Hakumen (kind of), and Litchi (kind of)
These characters all have one thing in common: they can keep away from you, and still cause damage, or time you out. Taokaka can run away, but her method for running away is an attack, so you can go both offensive and defensive on a dime. Lambda is OBVIOUS. Rachel, she has bad defense, but it's hard to penetrate with all of her different types of projectiles and wind to keep you away. Hakumen can camp you, and Litchi has HUGE move range.

The Gatling system is a common tool in some games, such as Marvel Vs. Capcom, in which only certain moves link into each other. In MvC, it is pretty clear that lights go into lights, mediums, and heavies, but mediums can't go backwards to lights, and heavies to mediums. This is the Gatling System.
The full system for each character can be found here, as well as other interesting things:
BBCS2 Data
If I missed anything or you would like to add something, please post below or PM me and I will update.