Also, Strider Hiryu was Bang's first son.
He inherited Kaminas Cape/Scarf as a Birthrite, and found some of the remaining robots from TTGL to become his friends. (The robot Tiger and Bird, not to mention the Eyes! xD)
Not only this, but Hotsuma from Shinobi is the son of Strider, who decided to make Ninjas into coldblooded assassins.
Ryu Hyabusa was found later to be the distant cousin of Hotsuma, and used to have a red scarf... However his great uncle Bang Shishigami decided he wasnt manly enough and revoked his ninja authenticity. His grandfather is coincedentally Bang Subordinate B, who gave birth to Joe Hyabusa.
The True Dragon Form of the Hayabusa clan derived from the Phoenix Rettenjou style of the Shishigami clan, which involves Swords and other fighting weapons, rather than the art of fighting with your fists, like a man. This probably explains the exile of the Hayabusa clan from the true ninja ways.
_________________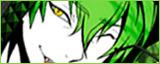 Chapters: 2 - Word Count: 11,733