hughjazz44 wrote:
CB Squall wrote:
Also, I won those games in a contest you held. Its not free if I have to earn them > >, so don't hold that above me like your the nicest guy in the world and shit.
You didn't earn anything. I didn't have to give you anything. Or anybody for that matter. I chose to give you something for free for doing something that you were going to do anyway (come to this forum). I came out of my own pocket and I paid the postage too. Who else here has gone so far as to go outside the forum and do something nice to you at a personal cost?
And you act like you're the resident BlazBlue expert. I never said I was the best player on the forum, but you'll jump at the chance to call me a bad player. You must have self-confidence issues if you have to constantly reassure yourself that you play better than me.
For the record, let the forum know that Squall is a better BlazBlue player than me, so he will quit being a bitch about it.
Grow up Squall.
Your right. Sure, the thing about the contest is cool. Its all great and all. However, YOU. You, my good sir, are an absolute asshole too. You act like a raging douche every chance you get. Your self-righteous about everything you say, even when it's completely wrong. You think you know the best about anything regarding social issues in the forum, just quote multiple threads in the Site Related topic
I might as well be the resident BlazBlue expert... In fact, until recently, I pretty much Was when it came to making general guides and helping people gameplay. I wouldn't say so much anymore, since I havent been able to pick up EX, but yeah. Also, I think its cute that you use this to try and assault my self-confidence when I can recall a time you used to constantly argue which Noel was better - yours or TailsIsGod's, to the point of making him practically quit the forums from your constant abuse.
Give me a reason that doesnt cite an event that could have applied to ANYONE on the forum before you tell me you've been personally nice to me.
_________________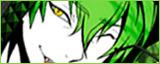 Chapters: 2 - Word Count: 11,733