This story will be told from the perspective of two characters. Elizabeth and Alexander. But there will also be separate narration at certain points.

-----------
-Alexander-
-----------

It feels like I was just born today. I woke up in a hospital bed, alone in the dimly lit medical center. I was wearing every-day clothes. After looking around for a few moments, I came to realize that no one was in the room with me. It stretched rather far, hospital beds lined up. There must've been at least a dozen on each end of the room. Small curtains were in between each of the beds. A diary lay atop my stomach. It was empty. The only thing that it had was a rhyme on the cover.

If you get to heaven before I do
Tell all my friends I'm coming there too

As I read it aloud, the words stung, as if they meant something. Due to the fact I didn't remember anything, I couldn't exactly explain why. I set the diary aside and searched the rest of the room I was in. As far as I could tell, it was completely empty. There was nobody in any of the other beds, and there was nothing in any of the drawers or any other visible places. I decided to leave the room, but the door was locked.

I looked around to see if I had missed something. Nothing seemed to jump out as such. I looked deeper into each of the drawers, nothing changing from the last time I checked them. I saw a light switch, so I decided to flick it on. The lights flashed incredibly bright, so I closed my eyes for a moment. After a few moments, I opened them, and saw what appeared the be a young woman with a baby in her arms. The image appeared ghost-like, and any efforts I made to interact with the image didn't lead anywhere.

I watched the image for awhile, the young woman simply rocked the baby back and forth in her arms for minutes, though I wasn't keeping track. After quite some time, what appeared to be a man walked up to the woman and attempted to grab the baby. The woman turned away and started walking toward the door. She was stopped by the man, who had turned her around and punched her, knocking her and her baby to the floor. I wanted with all my might to intervene, but I was unable to interact with the images.

The woman stood, the baby still cradled in her arms, and looked as if it was saying something, but no sound escaped her. The man retaliated with a noiseless tirade as well. After they continued on with that for awhile, the images disappeared. I didn't know what to think, I could make nothing of the ghostly images that had just appeared before me. On the bed that the woman was standing near, a key appeared. Unable to even begin to explain why, I simply took the key and put it in the door, unlocking it. I exited the room.

Now I was faced with the problem of not knowing where I was. I was afraid of simply wandering around for fear of getting lost. I went back into the room and took the diary, as I thought that I might as well. After looking around the dark hospital for a few moments, I called out. My own voice didn't sound familiar. I guess I was asleep for that long. Whatever the case, I got no responses. I stood still for a few moments, before going to the left, where I saw the most light. I went down the path for awhile, there was nothing much to speak of. At the end of the hallway, I arrived at a cafeteria. I'm not entirely sure what a cafeteria is, so I went inside and looked around. It was too dark to see anything.

I wandered around for a few moments before stumbling into a figure. "I'm sorry," I let out, as it was the only thing I could think to say. The figure made a groaning noise, before walking away to tend to its own business. As it walked into the light, I could somewhat make out what it looked like. It looked to be tall, and had been wearing a dress that looked white. There was something in its hand, but I couldn't tell exactly what it was. Nothing else really stood out as I saw it walk through a door. I didn't know what to make of the event, so I simply followed the figure, as it walked through a door that led to light.

I walked into the light, though dim as it was, and looked around me. I was outside, but all I could see was more of the outside of the hospital building. I looked around for the figure I saw before, mostly out of curiosity. It was nowhere to be seen. There were many doors in this area, so I decided to see which each one led to. All of them seemed to lead directly into hallways, but one had another door, a set larger than any I had seen, clearly visible, so I went through that one. The door seemed to move slowly, as if it was resisting being opened, but I had managed to push it open.

It was dark again, so I walked forward, stumbling into what appeared to be a counter. I felt my way around it, and continued outward toward the set of doors that led outside. They opened, and I made my way outside. I was greeted with nothing but cold, and I was not well dressed for it. I shivered as I wandered, seeking something aimlessly. I didn't know what I was looking for, so I just looked. It took a long time, but I eventually gave up and looked for someplace to rest in instead.

I tried to open every door I could, none of them granting me entry, except one. I made my way into the door that kindly let me in, and tried to search for something soft to lie down on. I found what felt like a couch, so I laid on it, and fell asleep.

----------
-Elizabeth-
----------

Diary entry, February 11, 2012

I've never written in one of these before, but I thought I might as well document my adventures, or, perhaps, misadventures, just in case my little journey leaves me lifeless. My name is Elizabeth Amy Barris. I am 21 years old. And since I hate beating around the bush, I'll cut directly to the reason why I'm doing all of this. When I was 16, I was raped by someone very close to me, memory fails as to who at the moment. With my luck, this led to a child. I bore the child as best as I could, and granted it entry into the world. Knowing what could come of adoption, I decided to keep the child, as I wanted to make sure it had a mother. I named the child Alexander, a name that seemed to stick in my head for reasons I know not of.

Three years ago, to the day, my house was burned down. I simply blacked out, but awoke in a hospital, seemingly in great condition. I could not say the same for anyone else in my family, to my knowledge. The one I'm most concerned with is my child. I thought, if any place knew the answer, it would be my hometown. This is why I'm back in this wretched place.

It seems the town has lost quite a lot of life in my absence. In the lot that I first came in, not a single soul was anywhere near. I decided to chalk the absence of vehicles up to the incredible abundance of fog, and left the thought alone. After sitting in my car for a few moments, collecting my thoughts, I had a quick smoke and moved on my way. I ventured down a familiar path to the town, and decided not to take the car to avoid any attention I might pull.

So I walked down to the eastern entrance of the town, a much longer trek than I had remembered. Perhaps it's just hazy memory. Whatever the case, I arrived at the town. It was just as desolate as the lot and path were. My only assumption was the cold weather and fog resigned all inhabitants to stay inside their houses. Wish I had the pleasure.

After about an hour of just idly walking around, not entirely sure where to start looking for the truth, I decided to just walk back to my car and think for a bit. I thought 'If this place does have the answer, where would it be? Or who would know it?' I came to the conclusion that doctors in the area might be able to dig up medical records, and see if he had gotten proper hospital treatment but was never returned to me for reasons I would be unable to fathom. I also thought to check all graveyards in the vicinity, seeing his name there would only confirm his lifelessness.

After smoking and deciding that I'll just, as they say, 'wing it' for the time being, I took a nap.

When I awoke, there was a man standing across the lot. He held what appeared to be a beer bottle and was fingering his phone. He was tall, and lean. Not someone I recognized, at least not from the distance I saw him at. I got out of my car and started walking toward him. At the sound of my car door closing, he jumped a little. He turned in my direction, and looked at me for a moment before running off. I attempted to keep up with him as he ran back toward the town, but I could not compete with his strides and his speed was something to be admired.

After giving up the chase, I got to think for a moment. I thought about whether or not this trip was worth it. After all, how likely would it be for me to actually find any information three years after the event? To be completely honest, I feel like this trip won't lead to anything and will be nothing more than a visit back to a locale which I despise. I finished my internal argument with a certain statement I thought I'd never think.

"Well, guess I might as well. What else do I have to live for?"

Perhaps it's just my delusions kicking in, or the fact I didn't want to call myself wrong and idiotic for attempting something so ridiculously stupid, but I can't even begin to fathom what I meant by this statement. Do I really think this about myself? Couldn't afford going to college, no relationship, no family, nothing.

Maybe I don't have anything else to live for.

I guess I'll just go with this reasoning until something better shows itself.

Whatever the case, I went back down to the town to see if I could remember where I could find some type of graveyard. As I entered the eastern entrance, the man I saw earlier was standing at the entrance of a bar, simply idling there doing nothing of seeming importance. I decided to approach him again, since I had nothing better to do. This time, his legs stayed still.

"Hello!" I hollered when I was in a clearly audible distance.

"U-uhm... hello..." he said back.

"I didn't mean to startle you, I just want to talk," I said when I was finally close enough to call this a conversation. I got a better look at him this time. Definitely not a man I recognized. He looked older than I. I took a guess at around 28, to see if I could still fancy myself someone with an uncanny ability to peg peoples' ages.

"Oh, okay..."

No longer being able to resist the urge, I took a cigarette out and began to smoke it. This man didn't seem to care much about appearances after all, beer bottle in hand still and standing close to a bar. "You want one?" I asked, attempting to at least seem polite.

"N-no thanks... I quit last year..."

"Ah. Good on you. Haven't been able to bring myself to quit."

"Oh..."

This man's awkwardness began to get under my skin. I decided to cut to some kind of point to see if I could get some useful information out of him. "Do you know where I could find a close cemetery?"

"Uh... Why?"

"Personal reasons. Just need to confirm something." Perhaps he fancied me a graverobber. To be honest, I took offense to his question, adding a little bit of bite to the words "Personal reasons."

"There's uh... one on the western outskirts of town... I don't know of any other than that, though."

The western outskirts were much too far to easily go to at this point. I'd have to go back to my car and drive around, and I was content on milking all the information I could out of the eastern side first. "Thanks," I said, beginning to walk off.

"Wait," he said, with a bit of hesitation.

I turned back, and simply said "Yes?"

"Sorry for running off earlier... It's just that at a distance you looked like something else..."

I wondered what would possess this man to run from anyone. Though the word 'something' was added with a bit of fear, so perhaps there's something I'm not aware of. "No problem," I said. "Elizabeth, by the way."

"Oh... uh, Garth..."

"See you later, Garth." I thought it would be smart to keep on good terms with the folks I met in this town, after all, I'd likely be seeing them a fair bit.

So I was plum fresh out of ideas. I walked off and took a look around the town and tried to see if anyone was around. Didn't seem like anyone was. It's very strange how this has practically become a ghost town in just three years, though I guess I'm just accustomed to strange at this point.

A thought popped into my head about visiting my old house, and I decided to entertain the notion for reasons I can't exactly understand myself. So I did so.

I arrived at the location within minutes. It was difficult to forget where the house sat. Just at the corner of the street, just in front of the woods. Though something I can't begin to comprehend was true.

The house was standing, in perfect condition.

Recall how I said how it had been burned down? It had. Now why was it standing? The question bounced around in my head for minutes, as I stared, dumbfounded, at the house.

'Maybe I have the wrong house', was my feeble attempt at answering. The number was the same, and its location was distinctive enough to not mistake it. I could only think that another house was built to replace it, but with the condition the town is, I could only assume that wasn't the case. It takes a fair amount of time to construct a house, though maybe not three years, it's unlikely the construction was started and finished before the town became desolate.

I thought 'maybe I should enter it,' but some type of force kept my body from doing so. I approached it, but I couldn't bring myself to even touch the doorknob. I walked away from it, cursing my weakness. It's just a house, my house, what could make me stop myself from entering? Maybe it's a sign that something unnatural is at work here, but I always fancied myself a somewhat logically thinking person, so I didn't want to jump to that conclusion until I had no other options.

For now I decided that it was getting late, and I should retreat to my car and let myself sleep, so I began to do so. On the way, I saw something rather unsettling.

It appeared to be a person from farther away, but after I could see it clearly, it was evident that was not the case. It had no face, yet its head was in a rather odd shape. It appeared to have had some type of traumatic injury to its head, as it was pressed down at a point as if it had simply caved in. It had a large hole in its stomach, and no arms, and seemed to be able to turn its torso a complete 360 degrees. The bottom half of its body seemed normal, besides the fact it was naked. Its 'skin' was tanned to the point of a leathery appearance.

I tried to sneak around it, as it had no eyes, ears, or nose, so I could only imagine it wasn't able to sense me as I walked by. I almost tip-toed my way around on the opposite end of the road. It didn't pay any mind to me, until I let out a relieved sigh, after which it turned its torso to face me with a surprising amount of speed and started a full-speed gallop toward me.

I ran with all the speed my legs could muster.

The thing kept up with me. I didn't dare to look back, but I heard its steady footsteps methodically in line with mine, sounding to be the same distance away throughout. I attempted to speed up, but my legs failed me. The excessive exercise got to me, and I gradually slowed down. As I slowed down, it seemed to speed up, and the difference in speeds greatly widened as I could feel it growing closer and closer.

I attempted to get a single burst of speed out of myself, but I failed, tripping onto the cold ground.

The monster had caught up to me.

It stared at me for a moment. Either wondering what I was or contemplating what to do with me. After a few seconds, it reared back and sprayed blood from the hole in its stomach. The blood sprayed forth with the strength of a high-pressure hose, and the liquid hurt as it impacted my skin. The monster them started to lean over me. I wondered what it could possibly do with no mouth or arms, but I was afraid all the same. A piercing pain deep within my head intensified the longer I was in the presence of this monster, until it eventually caused a ringing noise in my ears and numbness in my head.

But then I felt a certain amount of strength building within me. Perhaps it was just resolve finally catching up, but I kicked the monster with all of my strength. It flew backward, onto its back, as it was caught off guard. I got up, slower than I hoped I could, and began to run again.

The monster got up with remarkable speed, practically jumping off of its back onto its feet, and was on my tail again before I knew it. The creature seemed to feed off of my fear. Whenever a pessimistic thought entered my head, it gained speed. Whenever I felt my legs buckling, it gained speed. I had to block every bad thought from entering my mind, but that was an incredibly difficult process. It didn't seem to be letting up its pursuit any time soon.

I wasn't going to be able to escape this thing.

Attempting to not have to come to that conclusion, I tried to look for something to impede its progress. There didn't seem to be any debris just lying around to throw behind me, and little rocks would do nothing to aid me in such an effort. As an old house I recalled came into view, an idea entered my head. The fence of the Yacama's. I stopped and pulled out a wooden piece of the fence with strength that surprised me, and I chucked it at the chasing monster. It hit it right in the chest, and stabbed it straight through, as I began to pry another piece out of the ground.

Note to self: These monsters, for reference, I'll call them "Bleeders", have incredibly thin skin and lack balance.

I approached the lying Bleeder, and kicked it to see if it would react. Perhaps a dumb follow-up to the previous events, but I just wanted to make sure. It laid where it was, completely still.

Still in a state of shock, I jogged back to my car just so that I could be granted short reprieve from the cold air and overly doleful setting. After arriving at my car, I decided to have a cigarette to burn some stress off and I hopped into the vehicle. I turned the heat up a few notches and, after finishing the cigarette, went to rest.
_________________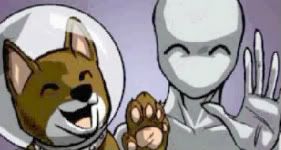 ★Don't tell anyone, but I'm actually a Velociraptor★