Captain Yuuki "Hazama" Terumi, The Smooth Criminal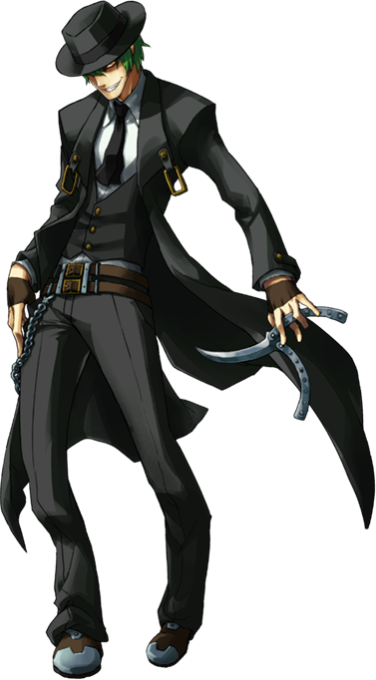 "I'm Hazama, from Intelligence. Pleased to meet you."
Race:

Ghost, formerly human


Date of Birth:

April 29


Birthplace:

Unknown


Age:

100+


Gender:

Male


Height:

183 cm (6'0")


Weight:

61 kg (134 lbs)


Eyes:

Yellow


Hair:

Green


Blood type:

AB


Hobbies:

Collecting Silver Accessories


Likes:

Boiled Eggs


Dislikes:

Cats, Loud noises
"Hrm...which one says 'me' today? Ah! This one! Perfect!"
Gluttony Fang
Endless Despair
Nightmare Fiction
Smooth Criminal
Personality:

"What? You really don't know about me? Oh c'moooooooooon! Haven't you played Arcade mode or something? Man, do I have to do everything myself? What a pain...ok, well listen up, because I'm only gonna say this once. I'm what you might call- what? No, not crazy! Brilliant! I'm a brilliant bastard that really doesn't give much of a shit about you or anyone you know. I've got a plan, you see? A plan to get rid of you, your friends, and everyone you ever loved. Ya know why? You're a bunch of liars. Not to worry, I've got the remedy for that. TOTAL WORLD SATUR-...eh...ANNIHILATION! YAHAHAHAHAHAH!"
History:

Yūki Terumi was originally one of the Six Heroes who fought against the Black Beast in the First War of Magic. He created the Azure Grimoire (and in turn, the Black Beast) and had-"Blah, blah, blah, blah! If you reaaaaaaaaally want to know all of that, why don't you go play story mode or something? I don't have time to give all of you idiots history lessons."
"I guess I'm just bored...at least misery is interesting."
Why Should I Play As Hazama?:

"Man, are you really asking yourself that? I mean come on! Look at me! I'm the slickest, smoothest, and just flat out best guy there is around here! A guy like me oughta be everyone's first pick! But, hey, if the suit doesn't buy ya, then how about this? I'm a guy who can toy with anyone at close range and at long range. Using my handy Ouroborus here, I can keep a guy locked down where I want him, and shoot him down from anywhere I dodn't want him. And with these knives, I'm even slicker and quicker up close. These two pretties make sure I cut up anyone who's stupid enough to get in arms length of me. So ya see, I can run with the best of 'em, of any kind. Besides, did you see that 7k combo I pulled on old Ragsy over there? Yeah, my damage is preeeeeeeetty impressive ain't it? I gain heat like its no one's business and can manage to pull of 100 heat combos starting with sometimes as low as 50 heat. That's a whole nother half of the heat gauge gained mid combo so I can end it off in pure style! How's

that

for a character, eh?"
"Ya know, right now, I think the only cat cool enough to play with me is that shitty vampire over there."
Pros:
Incredible heat gain.
One of the best zoning games in the roster.
Unlike most zoning characters, Hazama has a very dangerous close range game.
Superb damage potential that's easy to tap into thanks to the heat gain.
Extremely cool looking combos.
Very good anti-airs.
One of the best reversals in the game (houtenjin).
Extremely dangerous corner game when facing the corner or even when back is to the corner.
Decent cross-up.
"You handle this one, Lieutenant. I'm...really not too good at this sort of thing."
Cons:
Without heat, the big damage potential is difficult to tap into.
Lack of reliable reversals without heat.
Only DP requires stance before use.
Mix-up is fairly weak with few and weak overheads that, again, are mainly useful with heat.
So basically, Hazama is very dependent on his heat.
Mid-range game is lacking without any good pokes aside from his risky (but high reward) 3C.
Some combos require some adjusting for many characters, and some plain don't work on some.
"Ah, hahah! That'll leave a mark!"
A Movelist:
5A: A simple poke. Can be canceled into itself infinite times. A viable anti-air, but can be beat out by a lot of moves, so be careful. Gives one 1 hear per hit. 250 damage.

2A: A simple crouch poke. Can be canceled into itself infinite times. Good for pressure. Can be used to poke out of pressure. Good okie tool. Provides not quite .5 heat. 150 damage.

jA: Air poke that's angled down for better air-ground usage. Used for beating slow anti-airs or to provide pressure on chain usage. A little over .5 heat. 180 damage.

6A: Hazama drops his elbow over his opponent's head. Slow. Hits overhead. Can only be canceled into distortions. Use only for mix-up, but not too often, considering its easy to punish on reaction. Provides about 2.3 heat. 600 Damage. Breaks a primer.
B Movelist:
5B: Hazama thrusts his knee forward. Good short-range poke. Staple starter to many neutral combos. A little over 2 heat. 550 damage. Jump cancelable. Air-unblockable.

2B: Hazama ducks down and thrusts his foot out at his opponent's ankles. Hits low. Good for mix-up. Just as good as a starter as 5B, just less reward for the advantage of mix-up. 1.99999999999 heat. 450 heat.

jB: Hazama kicks his leg out while in the air and swings it back. Viable cross-up option (more in option select situations). Good air-air tool. Swing this out early when flying in on blocked chains to beat not-so-great anti-airs (ex: other Hazama's 5A). Hits behind Hazama (hence the cross-up), but only right behind him, and the swing back is kinda slow. 2-3 heat. 450 damage.

6B: This is the worse move in the fucking game. Why does it exist? It needs to go away forever. But since we're stuck with it, you might as well know what its good for (NOTHING!). Hits low. Can only cancel into distortion. Extremely slow. Use only for mix-up (aka never, you have better moves). Gives not quite 2.5 heat. 600 Damage. Breaks primer.
C Movelist:
5C: Hazama flashes both of his knives upward at opposite angles making an X. Hits twice. Used often as an OTG move. Ok anti-air. Quick enough to where it can be used as a poke, if out of 5B range. But its very punishable, so be careful. 1.3~ heat per hit. 300 damage on first hit, 186 on the second. Total 486. Jump cancelable. Air-unblockable.

2C: Hazama ducks down, and stands up, hunched over slightly, flashing his blades in the air. One of his best anti-airs, but also very punishable if baited. Another sometimes used OTG move. A bit more than 2 heat per hit. 660 damage. Jump cancelable. Air-unblockable.

jC: Hazama flashes out his knives in quick slashy movements. Can be mashed for a total of five hits. Used often in air-combos. First two hits can be jump canceled. 600 damage. About 2.4 heat.

j2C: Hazama jumps up, and swings a knife down under him in a half-circle ar. You're weapon of choice in terms of cross-ups, and chain-hit confirms. Wonderful air-ground move. Hits way behind Hazama, so IAD cross-ups using this move are highly advised. 620 damage. 2-3 heat.

3C: Hazama squats down low, and quickly sweeps his knife under his opponent's feet. Best mid-range poke, but also risky. Amazing on CH, so use it on unsafe moves and approaches (ex: Tager Sledge). Hits low. Over 2.5 heat. 700 damage. Air-unblockable (yeah, a sweep is air-unblockable). Proof at 2:20, just for laughs.

6C: Hazama jumps back and throws three knives at the ground in front of him. It has mid-range range, but is not recommended to use often. Used very often in combos, though.

Sometimes

can be used on oki, if you predict a wake up super or something you just don't want to be near (ex: Tager command throw or Jin DP) for a counter-hit, but there are better and safer options you can use for the sake of space (3C or just chains). Hits three times. 3 heat on each hit. 500 damage on the first hit. 311 damage on the next two hits. Knocks down opponents it hits in the air.
D Moveset: 2 stocks. 1 stock gained when hitting a blocking opponent. 2 gained on hitconfirm. Will do strategic notes in later section.
5D: Hazama throws out a chain directly in front of him. Close range: 1 heat, 300 damage. Mid-long range: 2 heat, 500 damage, stun.

6D: Hazama throws out his Ouroburos at a 30 degree angle. Close range: 1.5 heat, 400 damage. Mid-long range: About 2.4 heat, 600 damage, stun.

4D: Hazama throws his Ouroburos up at a 60 degree angle. Close range/Mid-long range: See 6D.

2D: Hazama throw his Ouroburos at a 90 degree angle directly above him. Close range/Mid-long range: See 6D (but stun range requirement minimum is smaller).

jD: Same as 5D, just at a different altitude.

j6D: Hazama throws his Ouroburos down at a -30 degree angle. Close range: .5 heat, 200 damage. Mid-Long range: 2 heat, 500 damage, stun.

j4D: Hazama throws out his chain at a -60 degree angle. Close range: 1 heat, 300 damage. Mid-Long range: 2 heat, 500 damage, stun.

j2D: Hazama throws out his chain at a -90 degree angle, directly below him. Close/Mid-long range: See j4D.
"Ouroboros...COME HERE!"
236D/Venom Sword:

Hazama throws out his hand and an Ouroboros Phantom shoots out and smacks his opponent. If opponent is airborne, they'll fly about half way across the screen. 450 damage. 1-2 Heat.
A/N: Will continue later. Owner or anyone else is welcome to PM me information they'd like to add or submit themselves to the guide. This is all I honestly have so far. So combos, strategies, move-set information, all are welcome for submission. I, of course, will do it all eventually, if need be, but help is always appreciated.